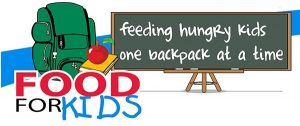 Lots of kids in our community rely on school for their most nutritious (or sometimes only!) meal of the day.  Last year, the Food Bank of Northern Indiana's "Food 4 Kids Backpack" program provided weekend food bundles to almost 2,000 students in Saint Joseph, Elkhart, LaPorte, Marshall, and Starke counties.  You can help a child by donating to the "Food 4 Kids Backpack" program.  For every dollar donated, which buys THREE meals, 94 cents go straight back into our community.
CLICK HERE to make your donation today – every donation helps to buy food for hungry students in our community.
Here's what local teachers have to say about the Food 4 Kids Backpack Program.
"As a School Social Worker, I am so grateful for the Food 4 Kids Backpack Program.  Instead of dreading a weekend without food, our students can be at peace, knowing that they will have something to eat.  This program has truly been a Godsend for many of our students who suffer from hunger."
~ Natalie Murphey, MSW, LSW, Social Worker, Elkhart Community Schools, Eastwood Elementary School and Osolo Elementary School.
"Culver Community Schools has 96 students who receive a backpack of food from the Food 4 Kids program.  THANK YOU for your support and generosity in providing our students with easy staples to create a meal for themselves or their siblings too.  One student in particular brags how "he is making dinner" when he picks up his backpack from our counselor."  ~ Karen Shuman, Ed.S., Superintendent, Culver Community School.