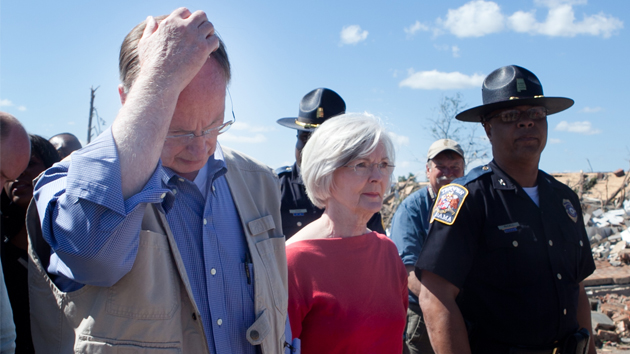 Jessica McGowan/Getty Images(MONTGOMERY, Ala.) — Alabama Gov. Robert Bentley has resigned following allegations that he used state resources to cover up an affair he was having with one of his top aides.
Bentley was booked into a Montgomery County jail Monday on charges of failing to file a major contribution report and knowingly converting campaign contributions to personal use, according to booking information on the Montgomery County Sheriff's Office website.
When asked if he was guilty at the Montgomery County Courthouse, Bentley responded, "Yes, sir."
Bentley signed a plea deal that requires him to reimburse $8,000 his campaign spent on the legal fees of former aide Rebekah Mason, with whom he is accused of having an affair, according to Al.com. In addition, he must forfeit all the money in his campaign account — which is in excess of $36,000 — to the state.
The former governor will also be required to complete 100 hours of community service as a physician.
As part of the plea deal, Bentley also agrees to not pursue elected office in the future.
During the announcement that he was resigning, Bentley said he received the "greatest honor" of his life when he was elected as governor of Alabama and apologized for letting the people of Alabama down.
"I want you to know, I love our people with all my heart, and I want nothing more than to serve them," he said. "The time has come for me to look at new ways to serve the great people of our great state. I have decided it is time for me to step down as Alabama's governor."
Bentley's last words as governor were: "So, thank you. Goodbye, and I love this state — from the bottom of my heart."
Alabama lawmakers began impeachment hearings on Monday for the Republican governor, whose alleged indiscretions with Mason were detailed in a report by Jack Sharman, a veteran Birmingham-based lawyer.
"Governor Bentley directed law enforcement to advance his personal interests and, in a process characterized by increasing obsession and paranoia, subjected career law enforcement officers to tasks intended to protect his reputation," the report states.
Lt. Gov. Kay Ivey will replace Bentley as governor.
Copyright © 2017, ABC Radio. All rights reserved.