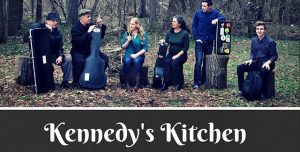 Sunny 101.5 and the Morris Performing Arts Center present Fridays by the Fountain on the Jon R. Hunt Plaza, in front of the Morris Theater, all summer long! The concert series runs every Friday and features live entertainment from local Blues, Jazz, Rock, Folk, and Country bands. The concerts are free and open to the public and run from 11:45 AM – 1:15 PM. Food vendors are available, or you may choose to bring your own. Tables are set in and around the plaza or bring your own blanket and chair!
This Friday, it's Kennedy's Kitchen! Kennedy's Kitchen is all things Irish from pub songs and sing-a-longs, stories, recitation, to ripping dance tunes; from pounding on the tables to crying in your beer.
For more information, CLICK HERE!