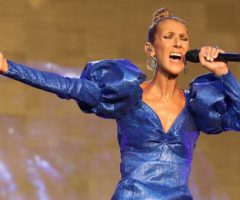 Despite her diagnosis of Stiff Person's Syndrome, Celine Dion still planned to resume her Courage World Tour in Europe this August.  However, on Friday, she officially canceled all the remaining dates, which were to have run through this October, with another leg starting in March of 2024.
Celine is "is working hard on her recovery, but at this time is unable to successfully prepare for and perform the remainder of the tour," reads a press release.  It adds, "We do have every hope that someday soon, Celine will be able to come to all of these cities in Europe to perform for her amazing fans, but that time simply is not now."
In a statement, Celine herself says, "I'm so sorry to disappoint all of you once again. I'm working really hard to build back my strength, but touring can be very difficult even when you're 100%."
"It's not fair to you to keep postponing the shows, and even though it breaks my heart, it's best that we cancel everything now until I'm really ready to be back on stage again," she adds. "I want you all to know, I'm not giving up… and I can't wait to see you again!"
All the tickets will be refunded from the original point of sale.
Celine had played the first 52 dates of her Courage World Tour in North America before stopping in March of 2020 due to the pandemic.  She then filmed the recently released movie Love Again, before receiving her diagnosis of the rare condition, which causes severe and persistent muscle spasms.
Copyright © 2023, ABC Audio. All rights reserved.