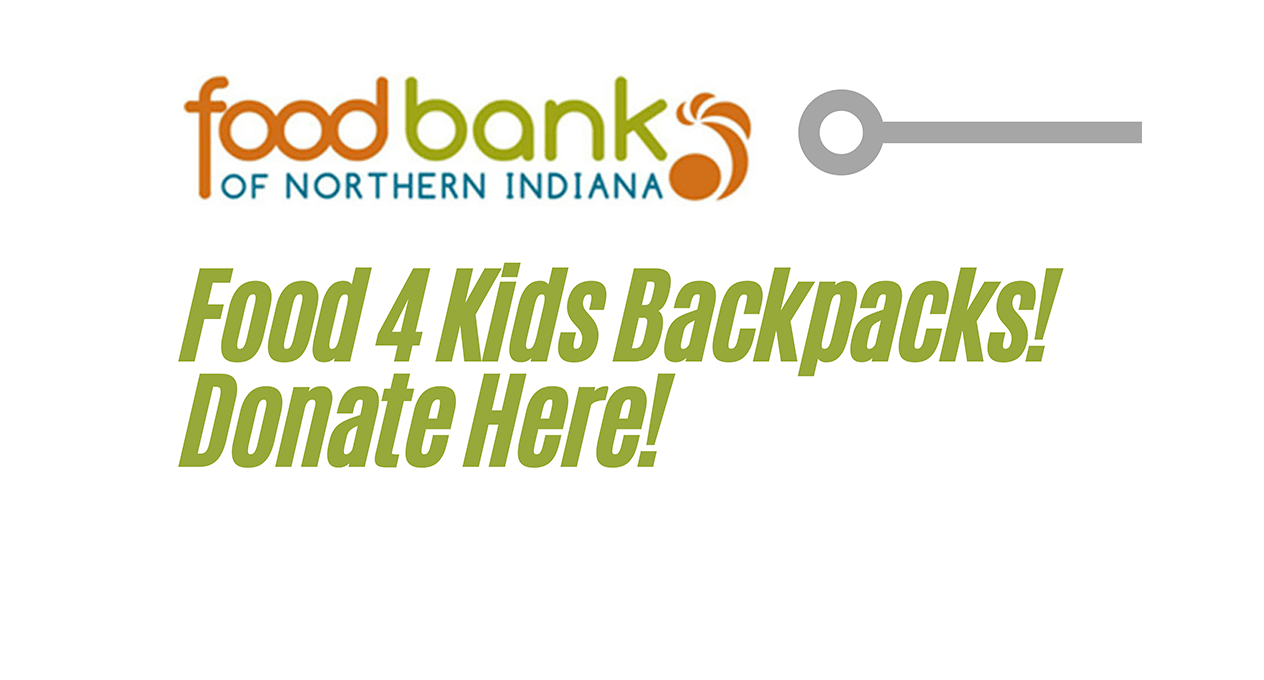 Food 4 Kids Backpack Program
History:
· The Backpack for Kids Program concept was developed at the Arkansas Rice Depot in Little Rock, after a school nurse noticed hungry students coming to her with stomach aches and dizziness throughout the school day. The local food bank began to provide the students with groceries in non-descript backpacks for them to carry home.
· In 1995, the BackPack Program was launched as a pilot program and by 2006, the National Council at Feeding America approved it as an official national program of the Feeding America Network in July 2006.
· The Food Bank of Northern Indiana began its Food 4 Kids Backpack Program in 2006.
· The Food 4 Kids Backpack Program is an emergency food assistance program designed for students in grades K-6.
Numbers:
· There are nearly 29,000 children in Elkhart, Kosciusko, LaPorte, Marshall, Starke and St. Joseph Counties that are food insecure.
· The Food 4 Kids Backpack Program serves 2,000 students in Elkhart, LaPorte, Marshall, Starke and St. Joseph Counties and is free to participating students and their families.
Mechanics:
· Participating schools are identified as having a high rate of children eligible for free/reduced meal programs.
· Participating students receive food for weekend and holiday breaks during the school year.
· Each bag contains two 15 oz. canned meals, two 1.0 oz. cereal bowls, two snacks, one 8 oz. milk and one 6.75 oz. juice.
The items are nutritious, kid-friendly, shelf-stable and ready-to-eat with little or no cooking (some items may need to be heated in a microwave).
· Students typically receive their bags on Fridays.
· Food is discreetly distributed to students to help shield them from any stigma that may be associated with being hungry or needing food assistance.
Funding:
· The Jordan Automotive Group has been the program's presenting sponsor since 2009.
o The Jordan team embraces the program as part of their corporate culture.
o Jordan employees deliver food to selected schools each week, pack bags/boxes and assist in fundraising activities for the program.
· The cost is $150 per child for the school year or $3.75 per week.