Shelli Harmon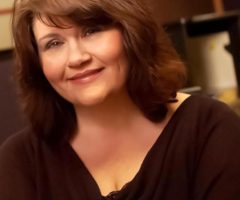 Taking over mid-days on Sunny 101.5, Shelli Harmon keeps listeners entertained with the Best Variety of the 80's, 90's, and today, along with her down-to-earth sense of humor.
Originally from Coloma, Michigan, Shelli spent several years as a radio gypsy. She worked in radio on Long Island, NY, and also in Louisville, KY, Charlotte, NC, and Cincinnati, Ohio before deciding to come home to Michiana. Shelli now makes her home in Granger, Indiana with her husband Mark, Norman the Mutt, Harvey the Morkie and Chewie, the crabby Corgi mix and parakeets Tony Hawk and Florence Nightengale.
Shelli and Mark like to watch Chicago PD and Bears football. Sadly, Mark got Shelli hooked on The Bachelor, The Bachelorette and Bachelor in Paradise, about which she is mortified, but obsessed.  Shelli also loves Christmas movies on The Hallmark Channel!
When Shelli is not on the air, you will either find her at home in a recliner next to her husband or (during non-pandemic times) at any store chasing her mom who's usually on a little motorized cart. (Those carts are faster than you think!)