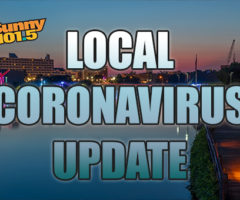 3/31/20 Update
–Case counts continue to climb. Indiana: 49 deaths, 2,156 cases. St. Joseph County, 49 cases. Michigan: 184 deaths, 6,498 cases. Berrien County: 32 cases. Nationwide: 3,100+ deaths, 164,000+ cases.
–indiana Governor Eric Holcomb signed an executive order Monday allowing some professionals who do not currently hold an active license to practice, including retired doctors and nurses, those licensed in other states, and some medical students and graduates.
–Indiana Workforce Development is trying to keep up with all the applications for unemployment benefits, but admits there are many more calling than they can handle right now. Spokesman Josh Richardson says most applicants can complete the entire process on line.
–Red Cross notes big drop in blood donations, urges us all to check at RedCross.org for ways to donate.
–It's not nearly enough to make up for jobs lost, but there are people hiring these days. Kroger in Michigan says it wants about two thousand more workers, as they struggle to keep up with demand.
–Notre Dame says commencement will be held on line May 17, diplomas will be mailed to graduates in June. University will host a special event for 2020 grads Memorial Day weekend 2021.
–The Morris announces cancellation of remaining performances of "The Lion King."
3/30/20 Update
–President Trump extends White House social distancing guidelines through at least the end of April, admitting it will not be business as usual by Easter, as he had hoped.
–St. Joseph County health officer Dr. Mark Fox says he believes the peak of the COVID-19 outbreak locally will come in about two weeks.
–US Surgeon General names Indianapolis as likely coming hot spot for COVID-19. Says Indy is tracking similar to other hot spots like New York, Detroit, and others.
–The number of COVID-19 cases in the U.S. continues to rise, with more than 143,000 people testing positive and a death toll now over 2,500. Dr. Anthony Fauci of NIH says total US deaths could top 100,000 before it's all over.
–Local case numbers: St. Joseph County: 1 death, 38 cases. Elkhart County: 12 cases. LaPortre County: 6 cases. Indiana: 132 deaths 1,786 cases, 1,000+ in metro Indy. Michigan: 5,486 cases (4,000 in metro Detroit). Berrien County, 29 cases. Cass County, 4 cases.
–Senator Mike Braun (R-IN) urges compliance with social distancing, hygiene precautions, predicts testing improvements will ultimately allow many to return to normal activities.
–Michigan Gov. Gretchen Whitmer announces extended unemployment benefits to help cover contract workers and low wage employees not currently covered.
3/27/20 Update
–Case counts are starting to climb rapidly. Indiana: 24 deaths, 981 cases (645 yesterday), 28 cases in St. Joseph County, first death reported. All surrounding counties now have cases. Michigan: 60 deaths, 2,856 cases, 11 cases in Berrien County. Detroit a hot spot for the virus. Nationwide: 86,000+ cases, 1,300+ deaths. About 45% of cases in New York City area.
–British Prime Minister Boris Johnson becomes first major world leader known to test positive for the virus. Has persistent cough, but is working from isolation at home.
–House of Representatives voting today on $2 trillion economic incentive package passed by Senate earlier this week. President Trump promises to sign promptly once passed.
–Better Business Bureau warns of coronavirus scams: callers or emailers claiming to be from government agencies offering help to get your check from economic stimulus package. Also peddling treatments, cures, and fake tests for coronavirus. A) nobody has to help you get your check. B) there is no known cure, treatment, or prevention for virus. C) the faster they want you to act, the more likely it's a scam.
3/26/20 Update
–US Senate passed $2 trillion economic stimulus package overnight. House vote could come as early as Friday. President Trump has promised to sign if House passes the bill unchanged. Key provisions: $1,200 checks to many American individuals, small business bailouts provided they keep employees, guaranteed government loans to larger corporations.
–Today's case data: Indiana: 17 deaths, 645 cases, 21 in St. Joseph County, 7 in Elkhart County, 2 in LaPorte County, first case reported in Marshall County. Michigan: 43 deaths, 2,294 cases, 10 in Berrien County. Nationwide totals: 66,000+ cases, 1,000+ deaths.
–Today (Thursday) the Food Bank of Northern Indiana in South Bend is hosting drive-through food distribution for families in need. Each family will be given a bag of assorted dry goods: one pack of frozen meat and one pack of frozen fruit. They ask you to have your trunk open in order to minimize contact. Starts at 3pm at Food Bank on Chapin.
–New York Times reports more 3.3 million new unemployment claims were filed across the US last week, a new record. Strong indication of the economic toll the pandemic is taking.
–Stay at home orders continue in effect in Indiana and Michigan. The better we are at social distancing, the less time we'll have to do it.
3/25/20 Update
–Case count: Indiana, 14 deaths 477 cases, 19 in St. Joseph County, 5 in Elkhart County, 2 in LaPorte County. Michigan: 24 deaths, 1,791 cases, 8 in Berrien County. Nationwide: 55,000+ cases, 800+ deaths.
–President Trump and Senate leaders of both parties agree on $2 trillion economic stimulus package, Senate passage expected within days; House must also pass before Trump can sign into law. Direct cash payments to many American workers, small business aid to keep employees on payroll, guaranteed loans to larger businesses.
–People who intentionally spread the coronavirus could face criminal charges under federal terrorism laws, the Justice Department's No. 2 official said Tuesday.
–Buckingham Palace reports Prince Charles, 71, heir to the throne, has coronavirus. Mild symptoms, isolating at home. Other celebrities with the virus include singer/songwriter Jackson Browne, 71.
3/24/20 Update:
–Current case counts: Indiana, 365, 12 deaths, 15 cases in St. Joseph County. Michigan: 1,328 cases, 15 deaths, 5 cases in Berrien County. Nationally: 46,000+ cases, 585 deaths.
–Stay at home order already in effect in Michigan. Indiana's takes effect at midnight tonight. Stay at home, unless you are getting food or medicine, going to/from an essential job, taking care of animals, or dealing with necessary vehicle, home repairs. Outside recreation/exercise is encouraged, but maintain social distancing (6 feet from others). Indiana's order is two weeks, Michigan's three, but either/both could be extended.
–Alarming rate of new cases noted in and around New York City. Governor Andrew Cuomo reports hotel/convention space being hastily converted to field hospitals to help handle overload of patients. This is why stay at home orders are important in other states like Indiana. The idea is to slow transmission of the virus to a level the health care system can handle. About a third of all cases nationally are in New York.
–Potawatomi Zoo in South Bend delays scheduled opening for 2020. Was to be April 3rd. Zoo will reevaluate when Governor lifts stay at home order. No date decided on so far.
–International Olympic Committee confirms Summer Olympics scheduled to start in late July in Japan will be postponed, possibly to 2021. Canada, Australia, and US all said they would not participate if games happened on schedule.