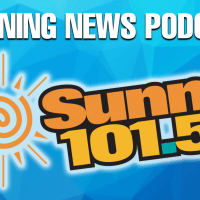 We've been through Thanksgiving Thursday, Black Friday, Small Business Saturday, and Cyber Monday, but there's one more annual day today: Giving Tuesday. Today is the day to give to deserving charities and programs to help others this holiday season. It's a day that enhances success for worthy efforts to help your community. Please consider contributing to your favorite charities and non-profits today, and throughout the holiday season.
The world's largest active volcano – Mauna Loa in Hawaii – is erupting for the first time in nearly 40 years. The eruption began late Sunday night, and lava is overflowing the caldera atop the ten thousand plus foot peak on Hawaii's big island. Scientists with the U.S. Geological Survey say they can't predict how long the eruption will continue, or if it might threaten anybody living in the area. Another volcano on the island, Kilauea, has erupted repeatedly in recent years.
Iranian reporters aggressively questioned US athletes and coaches at soccer's World Cup today after a US Soccer Federation post about their upcoming match that showed an Iranian flag without the country's emblem to show support for women protesting there. The US and Iran play a key match this afternoon US time, with the winner advancing to the next round.
Monday night NFL football: the Indianapolis Colts lost at home to the Pittsburgh Steelers, 24-17.
In the NBA: the Chicago Bulls won at Utah, 114-107. The Indiana Pacers edged the Lakers in L-A, 116-115. The Detroit Pistons host the New York Knicks tonight.
Hockey: Toronto beat the Redwings in Detroit, 4-to-2. The Chicago Blackhawks host Edmonton tomorrow night.